The Nishi 2-Chome Chikahodo Video Creation Project is an ongoing public project curated by the Sapporo Cultural Arts Community Center (SCARTS) since its opening in 2018. Every year we commission one or two artists to produce works that take advantage of our unique, ultra-wide horizontal projection screen, located along a busy underground pedestrian thoroughfare. (The Japanese portion of the project's title, Nishi 2-Chome Chikahodo Video Creation Project, translates to "West District 2 Underground Walkway.") The resulting works of film and video installation will be on display along with works by previously commissioned artists as part of our permanent collection.
In 2020 we commissioned world-renowned filmmaker/artist Apichatpong Weerasethakul to make a new work for this site. In 2001 Apichatpong came to Sapporo at the invitation of S-AIR, a longstanding Sapporo-based nonprofit artist residency program. It was his first time as an artist-in-residence, and it was memorable because he interacted not only with the S-AIR's staff, but also with the students and volunteers, members of the Sapporo community, and his fellow residents.
Twenty years later, in cooperation with S-AIR we invited Apichatpong to create work for the Nishi 2-Chome Chikahodo Video Creation Project in hopes that he could reconnect with Sapporo. The resultant video, The Longing Field was produced during the COVID-19 global pandemic that began in early 2020. Worldwide, individual cities and entire countries have undergone lockdowns, and both international and domestic travel have long been restricted. When we first began planning Apichatpong's commission, no one could have predicted that the pandemic's long shadow would still be looming over us today. What could have been on Apichatpong's mind as he began to develop this video work during such a unique moment in time, when people's orbits became so small, things slowed down, and everyone was forced to consider their own lives and lifestyles anew?
In April 2021 when the video was first installed, we spoke with Apichatpong via Zoom about it, and about the current situation we've all found ourselves in. This interview has been edited and condensed for length and clarity.
---
Approach to Public Space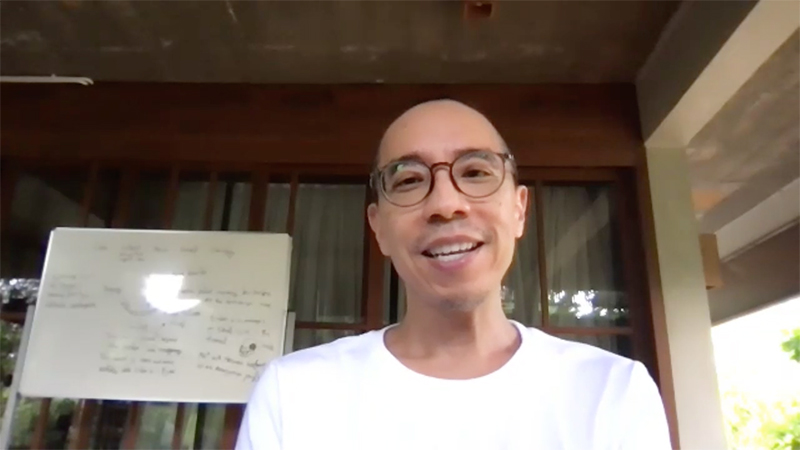 Apichatpong Weerasethakul
SCARTS : Your work for the Nishi 2-Chome Chikahodo Video Creation Project is your first public art installation. Tell us about the experience of having your work shown in a space where so many people encounter it on a daily basis. What was on your mind as you began this work?
Apichatpong : Everyone who is passing through that space have a different rhythm and preoccupations. It would be impossible to design something for everyone. I imagined myself as an audience, as if passing through thoughts. Hopefully my work can offer an opportunity for some people to slow down, or not. It's up to them how they respond to my work. It should feel like passing through some remnants of memory.
SCARTS : This project is a video work, of course, but it can also be thought of as a site-specific installation that takes the entire space of the underground walkway into consideration. Do you see similarities in it with your previous installation works or with other approaches you've taken in the past, such as for works intended to be shown in art museums, for example?
Apichatpong : There are some similarities to this installation in other works I've exhibited. But the fact that there are people who pass by in front of this work without stopping is particular to this setting. If it had been a gallery or an art museum, I could have designed it differently. In the past, when I created an installation at a park, it felt more like an open exhibition room. But this time it is happening in a "real" public place. Everyone who passes there has their own destiny or work to accomplish. They are on the move. I thought about how to respect people's inner space. So I decided to make it silent.
There's already footsteps and noise in the underground walkway, and it's not ideal to create a piece where the sound you hear in the environment, or in your head, and the sound of my work competes with each other.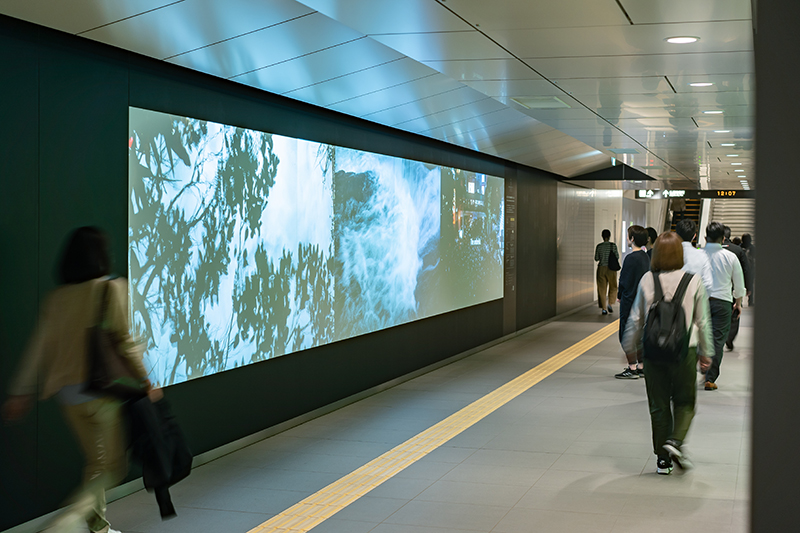 SCARTS : The sound design in your films is characterized by depth and solidity, almost as if produced by someone hidden behind the screen. On the other hand, as you just mentioned, the underground walkway where The Longing Field is situated is a noisy space filled with footsteps, conversation, and sometimes automated escalator announcements. It was an exciting surprise to discover that you planned to make a silent film, especially because we'd been curious to see how you'd approach the location. The end result won us over completely.
This work includes footage of a demonstration held in Bangkok. Although it was reported (accurately) in the news as a peaceful sit-in, the tens of thousands of protesters radiate exuberance and dynamic energy. It's such a contrast to witness it in this walkway in Sapporo, a quotidian passageway void of enthusiasm. Was it your intention to contrast the atmosphere between Thailand and Sapporo, or Sapporo's quietness compared to the vibrant, noisy energy of the streets of Thailand? That difference, to us, was profound.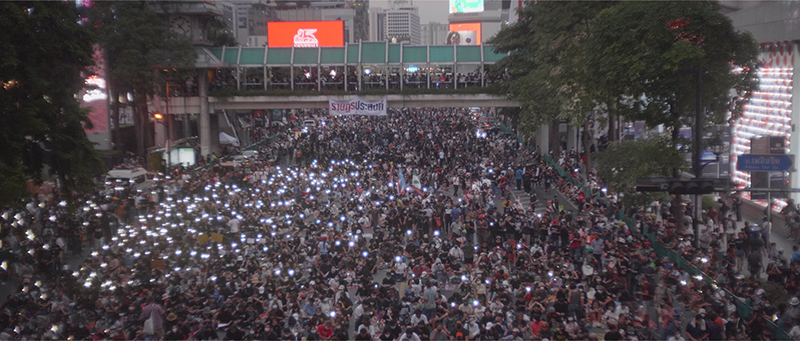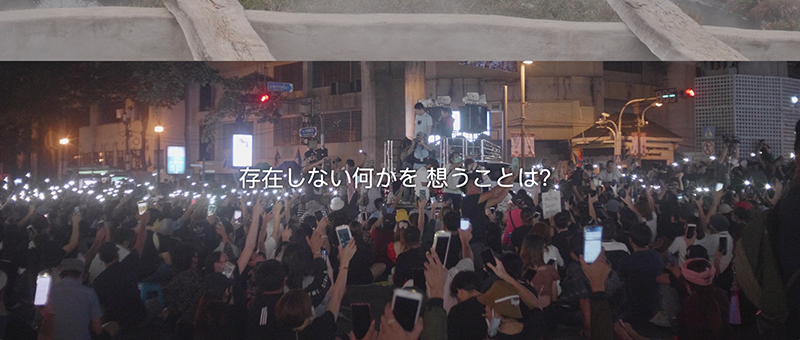 Demonstrators' smartphone lights, seen from above, become a field of stars.
Apichatpong : Thank you for your observation. One reason why I used the images of the protest in the streets of Bangkok was that I wanted an image of collectiveness. The lights are emitted from people's mobile phones. It's like a field of individual stars becomes the milky way. It was a kind of landscape to me.
Other than that, I wanted to create something like a dream with many layers. We were under the lockdown during the time of editing. I wanted to offer a communal space to reflect.
Overlapping Images and Words
SCARTS : Tell us a little more about the structure of "The Longing Field." At the very beginning of the process, you mentioned that you preferred to use three screens and projectors, rather than all four projectors available in the walkway. What was your intention behind this?
Apichatpong : Well, I don't know why in particular… I just followed my own instincts. While planning the piece, I didn't see it projected on four screens. I pictured multiple blinds or shutters moving and switching images, but I thought that it would be too busy to have eight moving images all at once. It'd be too much information for the audience. So I reduced the number of screens.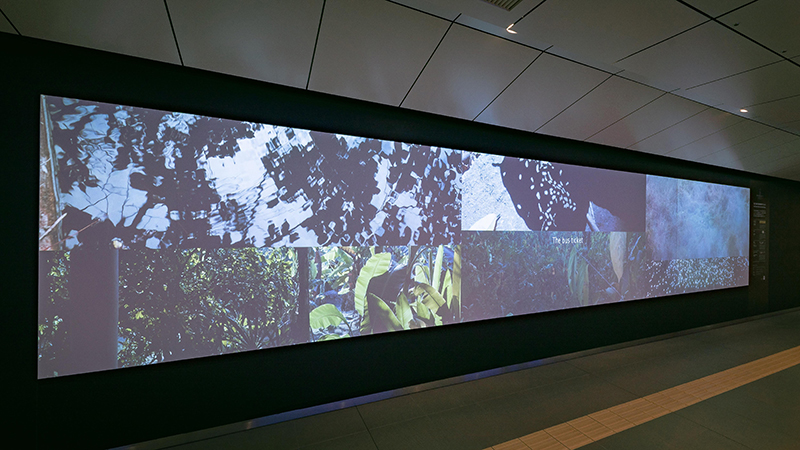 Six images intersect, two on each of the three screens.
SCARTS : The video nuancedly interweaves image and text, overlaying poem fragments atop video. Can you tell us a little bit about your approach to these pairings?
Apichatpong : This whole project was led by my intuition not only in the way I assembled the image itself, but also in how I spent my time during production. It was almost like a diary I kept during the lockdown. I shot footage in a lot more places than what had appeared on the screen. Along the way I kept adding ideas. It was about layering bits and pieces of memory.
SCARTS : Your title The Longing Field seems no less significant than the lines of text in the work. What's the meaning behind the title?
Apichatpong : There are three interpretations of "longing" (admiration) used in the title. The first is a longing for interaction. For a long time, I have stayed at home only with my dogs and have got no interaction with other people. So, it relates to my need for and anticipation of human interaction.The second is a longing for freedom. Of course, I'm pretty mobile and I can spend time in nature, immersing myself in its beauty as you've seen in my work. But in Thailand, the sense of living under the military government dictatorship is inescapable, so I feel that "freedom" is something unreachable, something one can never achieve. And the third is my longing for an artist friend who died suddenly at the end of last year. So, all of these elements are encompassed in the title.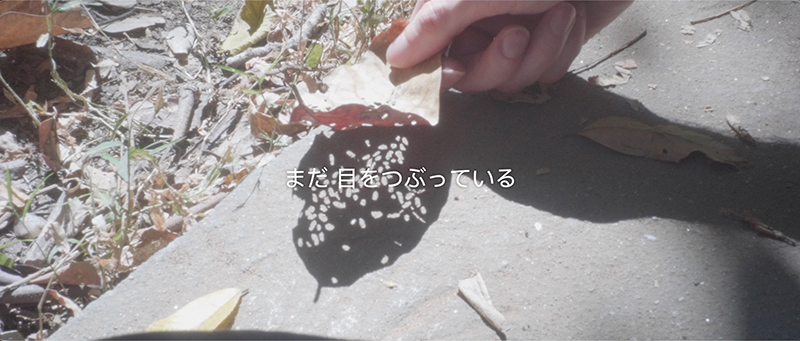 "The Longing Field"
Time Spent in Sapporo
SCARTS : When we first thought of commissioning your work, we asked Mr. Shibata of S-AIR what he remembered about your artist residency in Sapporo in 2001. One thing he mentioned was a performance in which you'd released balloons tied to self-addressed, stamped postcards into the sky. The postcards asked "Are you happy?" A couple who'd traveled to Furano for their honeymoon wrote back "We are very happy now." We found that particular interaction so evocative. In your artist statement for The Longing Field you wrote that it was a "video letter addressed to friends in Sapporo." Maybe this video letter shares something in common with your 2001 project: both are addressed to someone far away. Or it may echo the underlying motifs and themes that recur throughout your works in general. Do you have any memories that stand out from your time in Sapporo in 2001?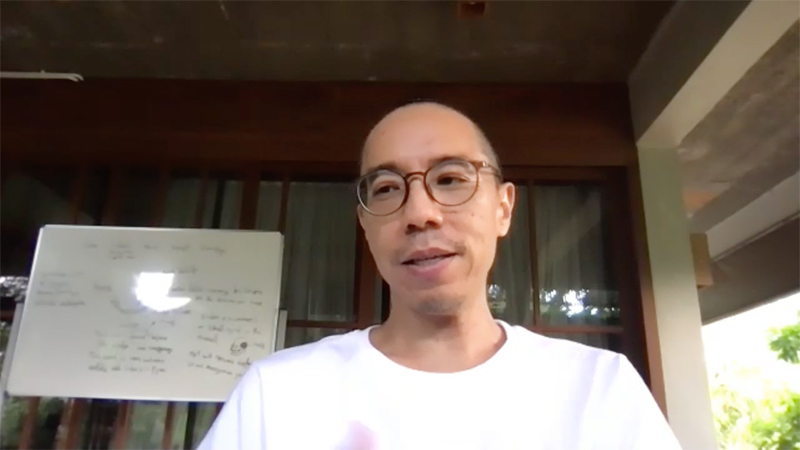 Apichatpong : Sapporo was my first art residency experience. In my career, I haven't done that many residency programs. So S-AIR remains special. I loved my apartment in Sapporo (laughs) so much, so I want to stay there.
During my time in Sapporo, I didn't intend to create "art," but I spent my time trying to blend in with the city and the neighborhood. That may be why I came up with the idea of releasing postcards attached to balloons. I wanted to connect not only to the people in the area where I stayed in 2001, but also to people beyond. It was during my stay that 9.11 happened. I was shocked and had doubts about so many things. I think it was a moment for me to ask questions to the world.
A New Time
SCARTS : COVID-19 has impacted this project profoundly. If times had been different, you could have come to Sapporo and worked on the piece on-site, but that sort of thing is no longer possible. We imagine that artists and creators the world over have found themselves in similarly difficult situations. As your art practice continues to evolve under the constraints of the pandemic, is there any message you have for artists and others in Sapporo about the current situation?
Apichatpong : Well, we're all dealing with something very similar. It's slowing things down in the ways we carry out projects. I am also working on another installation right now, which is three months behind the schedule. I'm not trying to keep up with the schedule, but to take it easy. I have no choice but to accept it, and in a way, I consider it a gift of time. This uncertainty may be very pleasant if we accept it, in fact.
SCARTS : We're so excited to show your video installation to such a broad audience, thanks to its location in a public thoroughfare. We'll share the audience's reaction to it!
Apichatpong : I'm thrilled to hear the feedbacks and to see how it actually looks in the underground walkway. It's been an honor to be a part of this project.
SCARTS : Come and see it in person when the corona virus settles down.
Apichatpong : Yes! I'd love to.
Online interview on April, 2021
Translation: Umi Hagitani, Miriam Bird Greenberg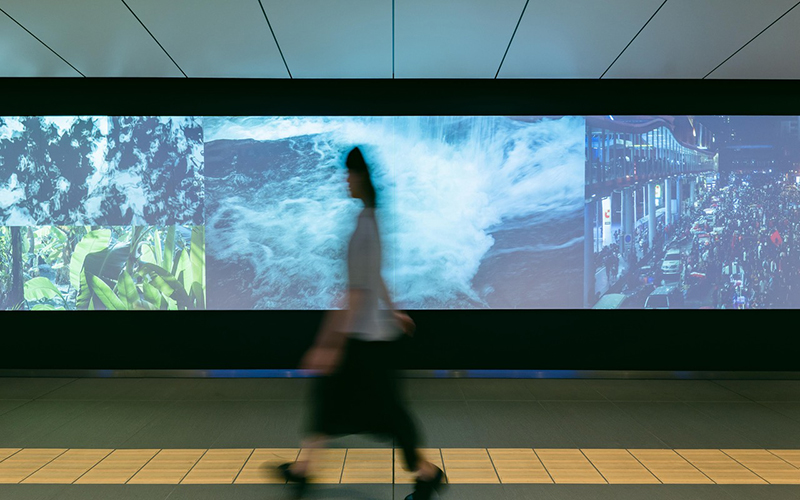 ---
Nishi 2-Chome Chikahodo Video Production Project
https://sapporo-community-plaza.jp/archive_nishi2chome.html
Showtime: 9:00 - 21:00
Planning and Operation: Sapporo Cultural Arts Community Center (SCARTS)
<Works Comissioned in 2020>
The Longing Field by Apichatpong Weerasethakul (9-minute loop)
A video by Thai director Apichatpong Weerasethakul, known for his daydream-like works in which darkness, light, dreams, and memories overlap with reality. The peaceful days he spent in Thailand in 2020 when the country was locked down due to the spread of COVID-19; the change of seasons and the days he saw young people demonstrating in Bangkok, the capital city, intersect in the blink of an eye. This film is a video letter to his friends in Sapporo, where he once stayed, documenting his unique time during the coronavirus disaster.